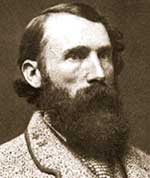 Amerikansk general, som kæmpede for Sydstaterne. Chef for III korps.
Ambrose Powell Hill was born in Culpeper, Virginia, on 9th November, 1825. He studied at the U.S. Military Academy at West Point and after graduating in 1847 he saw action in the Mexican War.
On the outbreak of the American Civil War Hill joined the Confederate Army. Commisioned as a colonel his army was held in reserve at Bull Run (July, 1861). After a successful campaign at Williamsburg (May, 1862 ) Hill was appointed major general of what became known as the Light Division.
Hill fought at the 2nd Battle of Bull Run (August, 1862), Antietam (September, 1862), Fredericksburg (December, 1862) and Chancellorsville (May, 1863), where he was wounded. Promoted to lieutenant general he played a significant role at Gettysburg (July, 1863) and the Wilderness (May, 1864). Ambrose Powell Hill was killed at Petersburg on 2nd April, 1865.
170,187,331, ]474 ]