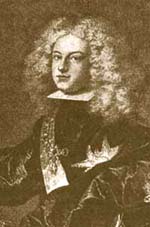 Spansk konge 1700-1746. Kong Carlos 2. af Spanien blev i efteråret 1700 endnu engang alvorligt syg. I oktober kom en af rigets mest indflydelsesrige mænd, ærkebiskoppen af Toledo, til ham med udkastet til et nyt testamentem som lod hele det Spanske Rige gå i arv til hertug Filip af Anjou, en sønnesøn til Ludvig 14. og hans spanskfødte dronning, Maria Theresia. Med rystende hånd satte Carlos sit navnetræk under dokumentet. Nogle få uger senere døde han, den 1. november 1700. Den 10. i samme måned besluttede Ludvig 14. at godkende testamentet.
King Philip V of Spain (1683-1746) was king of Spain from 1700 to 1746, the first of the Bourbon dynasty in Spain. The grandson of Louis XIV of France, he was chosen by the dying Charles II of Spain as his successor. This provoked the War of the Spanish Succession.
On January 14, 1724, Philip abdicated the throne to his eldest son, Louis, but resumed it later that year when Louis died of smallpox.
Philip helped his Bourbon relatives to make territorial gains in the War of the Polish Succession and the War of the Austrian Succession. During his reign Spain began to recover from the stagnation it had suffered during the twilight of the Habsburg dynasty. Ferdinand VI of Spain, his son by his first queen Maria Luisa of Savoy, succeeded him.
He had a second wife Elizabeth Farnese, who bore him another succeesor, Charles III of Spain.
Fader:
Ludvig (Le Grand Dauphin), død 1711
Moder:
Mariana af Bayern
Hustruer:
1) Maria Luisa af Savoyen
2) Elisabeth Farnese (Italien)
Børn:
Louis
Ferdinand VI
Charles III
Philip
Charles IV af Neapel
113, 280, 324,415,419