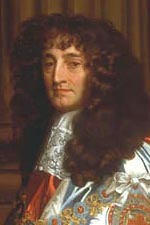 Hertug af Cumberland, jarl af Holderness. Nevø til kong Charles I af England og fætter til kong Charles II. Anførte det royale kavaleri under borgerkrigen, senere den engelske flåde mod hollænderne.
Ruprecht, pfalzgreve (1619-82), søn af kurfyrst Frederik V af Pfalz og engelsk prinsesse Elisabeth. Kæmpede tappert i Trediveårskrigen for protestanterne, 1638-42 i fangenskab, drog til sin morbroder, Karl I af England, og førte i Borgerkrigen det kongelige rytteri. Efter Karls henrettelse 1649 kaperfører mod englænderne; vendte tilbage til England ved restaurationen 1660 og vandt ære som flådechef i krigene mod Holland. (HK8/1925)
Born: 17th December 1619, Prague, Bohemia
Died: 29th November 1682, London, England
Allegiance: Royalist
Position: Commander-in-chief, Duke of Cumberland, Earl of Holderness
S on of Frederick V, king of Bohemia, and Elizabeth Stuart, daughter of James I; making Rupert a nephew of Charles I . Fought for the imperial forces in the Thirty Years War in 1638, but spent three years in captivity. Moved to join Charles in England just before the first war, being made commander of cavalry at the outbreak of war. Rupert was a good soldier, and had many military successes. He took Bristol in 1643, and most of Lancashire in 1644. He was defeated, however, at Marston Moor in July of that year. Despite Marston Moor, Rupert was made commander- in-chief in November. Rupert took Leicester in 1645, but lost heavily at Naseby not long afterward. Rupert found himself in an impossible position at Bristol, and surrendered the city. This infuriated Charles, who dismissed him from his position in the army. With the royalist forces defeated, Rupert was banished by parliament in 1646.