Cessna Model 337/O-2 Super Skymaster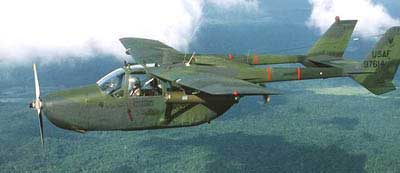 | | | | |
| --- | --- | --- | --- |
| EUROPA | AMERIKA | ASIEN | AFRIKA |
| | | | |
EWAP/86

: Ecuadors luftvåben råder over 1 Cessna 337D forbindelsesfly ved Grupo de Transportes Aéreos Militares, Quito.
EWAP/86

: Ecuadors flåde råder over 4 Cessna 337 træningsfly ved 2 Escuadrilla, Guayaquil.
EWAP/86

: Mauretaniens luftvåben anskaffede 2 Reims-Cessna F.337G fly i 1973. Blev senere suppleret med 2 FTB-337 fly.
EWAF/99

: Luftvåbnet i Mauretanien modtog 6 Reims-Cessna 337 støttefly, hvoraf de sidste opereres af Escadrille de Surveillance.
AFM 12/10

: Efter mere end 40 års tjeneste udfasede det amerikanske militær sine 2 sidste operationelle Cessna O-2A Skymaster fly 1/10/2010. Begge fly [67-21349 og 67-21414] var i tjeneste ved US Army's Yuma Proving Ground (YPG) i Arizona for at støtte testmissioner. Var oprindeligt i tjeneste ved USAF under Vietnamkrigen, derefter ved Air National Guard, senere overført til US Navy for til sidst at komme til US Army ved Fort Huachuca, Arizona. I 1998 ankom de to Yuma, hvor de har været siden.
Web 3/11

: Seen at Nampula Air Base back in March, is one of the Forca Aérea De Moçambique's two recently transferred ex Portuguese FTB.337G Milirole's. They will be used for a number of task's that will include Liason, Medevac and training. They are also equipped for the Surveilance role, though it is unknown whether they have been stripped of their weopon's capability.
The Aircraft transferred are:-
Ex FAP 13713 (c/n.0014) to FAM-45?
Ex FAP 13729 (c/n.0030) to FAM-457