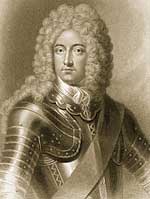 6. eller 1.1 jarl af Mar. Jakobit-oprørsleder i Skotland.
ERSKINE, JOHN, eighteenth lord Erskine, and eleventh earl of Marr, was the son of Charles, tenth earl of Marr, and lady Mary Maule, daughter of the earl of Panmure. He was born at Alloa, in the month of February, 1675. Having lost his father ere he had reached his fourteenth year, and his estates being greatly embarrassed, he devoted himself to civil affairs; and, as soon as he came of age, entered upon public life under the patronage of the duke of Queensberry, whose interest and whose measures he seems to have uniformly supported till his grace's death, which happened in 1711. In 1702, queen Anne, then just raised to the throne, appointed the earl of Marr one of her privy councillors for Scotland, and gave him the command of a regiment of foot, and a riband of the most noble order of St Andrews.
1675-1732, Scottish nobleman, leader of the Jacobites . He was nicknamed "Bobbing John," probably because of his political vacillation. He succeeded his father as earl in 1689 and in the following years was generally a member of the court party. He was twice secretary of state for Scotland under Queen Anne and played a leading part in promoting the union (1707) with England. After the accession (1714) of George I, he made an effusive offer of his services but was dismissed. He then withdrew secretly to Scotland, where he raised (1715) the standard for James Francis Edward Stuart, the Old Pretender, without orders from him to do so. The rebellion failed, largely through Mar's incompetence. He was defeated at Sheriffmuir and fled (1716) to France with the Pretender. He was attainted of treason in England, but his active dissatisfaction with the Jacobite court and his suspected treachery caused the Pretender also to break with him in 1724. Mar remained in exile until his death.
Fader: Charles
Moder: Mary Maule