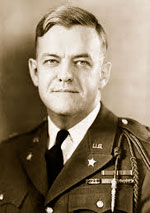 Amerikansk generalmajor. Chef for 77. infanteri-division.
Andrew D. Bruce, a native of Missouri and a graduate of Texas A&M in 1916, was commissioned an Army second lieutenant in June 1917. His association with the Marine Corps goes back to World War I, when as a member of the 2d Infantry Division's 5th Machine Gun Battalion, he participated in actions in France in the Troyon Sector near Verdun, in the Aisne Defensive operation near Chateau Thierry, the Aisne-Marne offensive at Soissons, the fighting at St. Mihiel, and the Meuse-Argonne offensive at Blanc Mont. With the rest of the 2d Division, he hiked into Germany to become part of the occupation force.
In the interwar period, he had a mix of staff, command, and school assignments. At the outbreak of World War II, then-Lieutenant Colonel Bruce headed the Army's Tank Destroyer School, which was first at Camp Meade, Maryland, then at Camp Hood near Kileen, Texas. He assumed command of the 77th Infantry Division in May 1943. The division first saw combat at Guam with the 3d Marine Division and the 1st Provisional Marine Brigade, and then landed at Leyte for the Philippines operation. General Bruce's 77th once again fought with Marines in the landing on 1 April 1945 on Okinawa. When the XXIV Corps attacked to the south, General Bruce's soldiers and the 1st Marine Division were neighbors in the frontlines.
General Bruce retired with three stars as a lieutenant general and died in 1969.