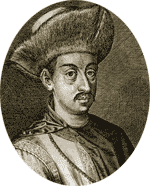 Prins af Transylvanien.
Báthori, Sigusmund (1572-1613) fulgte 1586 sin fader Christof som fyrste i Siebenbürgen. (HK1/1920)
Sigismund Bathory (1572-1613) (Báthory Zsigmond in Hungarian), Prince of Transylvania and of the Holy Roman Empire, was the son of Christopher, prince of Transylvania, and nephew of the Stefan Batory, elected king of the Polish-Lithuanian Commonwealth. He was elected prince in his father's lifetime, but being quite young at his fathers death, the government was entrusted to a regency. In 1588 he attained his majority, and joined the league of Christian princes against the Turk. The obvious danger of such a course caused no small anxiety in the principality, and the diet of Turda even went so far as to demand a fresh coronation oath from Sigismund. Upon his refusal to render it, the members threatened him with deposition. Ultimately Bathory got the better of his opponents, and executed all whom he got into his hands (1595).
Bathory had inherited the military genius of his uncle, and his victories astonished contemporary Europe. In 1595 he subdued Walachia and annihilated the army of Sinan Pasha at Giurgevo (October 25). The turning-point of his career was his separation from his wife, the archduchess Christina of Austria, in 1599, an event followed by his own abdication the same year, in order that he might take orders. It was on this occasion that he offered the throne of Transylvania to the emperor Rudolph II, in exchange for the duchy of Opole.
In 1600, however, at the head of an army of Poles and Cossacks, he attempted to recover his throne, but was routed by Michael, voivode of Moldavia, at Suceava. In February 1601 the diet of Cluj (Klausenburg)reinstated him, but again he was driven out by Michael, never to return. He died at Prague in 1613.
He abdicated three times, twice (1597, 1602), in favor of Holy Roman Emperor Rudolf II and once (1599) of his cousin Andrew Cardinal Bathory. From 1597 to 1598 he was the duke of Opole in Silesia.