Pacific Aerospace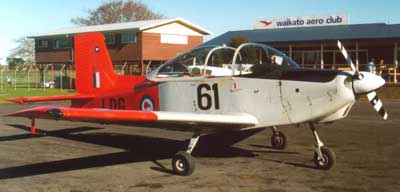 AFW/84

: Det indonesiske luftvåben råder over et ukendt antal NZAI Airtourer træningsfly ved Halim.
AFM 9/96

: Tongas luftvåben blev dannet i midten af 1986 og modtog et Victa Airtourer træningsfly fra Fiji. Menes fortsat at være i tjeneste.
WAPJ 41/00

: New Zealand leverede AESL Airtourer 150 træningsfly til Singapore, som supplerede luftvåbnets Cessna 172K fly ved Flying Trainning School (FTS) ved Seletar. Enheden blev senere til No. 150 (Falcon) Squadron.
AFM 11/16

: Et Pacific Aerospace P-750 XL fly uden mærker [c/n 199] blev observeret under Wonsan Air Festival 2016 24/9/2016 ved Kalma IAP, Nordkorea. Det nordkoreanske luftvåben menes at råde over 3 fly af denne type til forbindelsesopgaver. Flyet var oprindeligt blevet leveret til Shangdong General Aviation Services i Kina 9/10/2015 [B-10EG] samtidig med et andet eksemplar [B-10EF; c/n 198] samme dag. Sidstnævnte fly er sandsynligvis også blevet overført til Nordkorea.
AFM 8/22

: Et Pacific Aerospace PAC-750XL XSTOL støttefly [P2-701] vente tilbage i tjeneste ved Papua Nyew Guinea Defence Force (PNGDF) i 2021 efter at have haft startforbud i 4 år. Flyet, som menes at være forsvarsstyrkens eneste fastvingefly, blev observeret under takeoff ved Port Moresby juni 2022. Reparationen blev gjort mulig gennem den australske regerings DCP-aftale (Defence Cooperation Programme) med Papua Ny Guinea. Typen opereres af Air Transport Wing (ATW) ved Port Moresby. I alt 4 PAC-750XL fly med 10 sæder blev bestilt feb. 2016 til flyvninger til landets mange fjerntliggende og utilgængelige områder. Det første fly [ZK-KDI (c/n 206)] blev leveret maj 2018, men på grund af problemer med vedligeholdelsen og regulatoriske anliggender havde flyene været ubrugte siden 2019 og oplagret i hangar. Den australske regering har efterfølgende hjulpet PNGDF med fastvingeflyvninger siden 2019. Bl.a. har det australske luftvåbens 35 Squadron ved C-27J Spartan transportfly været søstereskadrille med ATW som del af DCP-aftalen. Endeligt gik PAC-750XL flyet [P2-701 (ex ZK-KDI)] i luften igen sept. 2021 efter vedligeholdelse. Efter yderligere hjælp fra det australske luftvåben kom flyet i operationel tjeneste.
WEB/23 : Following the refusal of the Australian Federal Government to give preference to Australian-built aircraft and provide a tariff against imported aircraft, the Aviation Division of Victa Ltd ran into financial difficulties and production stopped after 168 Airtourer aircraft had been completed, although a further four aircraft were on the production line. Rights to the design were sold to Aero Engine Services Ltd (AESL) of Hamilton, New Zealand (later New Zealand Aerospace Industries). This sale included two near complete aircraft (c/ns 169 and 170) and major components for another two (c/ns 171 and 172). The near complete aircraft were finished as Victa Airtourer 115s (ZK-COX and ZK-COY), and c/ns 171 and 172 became a new type, the AESL Airtourer 115, becoming ZK-COZ and ZK-CPA with new c/ns 501 and 502. AESL then continued development of the type to take more powerful engines, the first of these with a 112 kw (150 hp) unit becoming ZK-DBD (c/n 551). This was followed by a new design aimed at the military training market, the AESL Airtourer T.1, the first of which ZK-CGN (c/n 556) had a 75 kw (100 hp) engine which was followed by the T.2 with the 86 kw (115 hp) engine, these being similar to the Victa 100 and 115. The T.3 had a Rolls Royce O-240 97 kw (130 hp) engine; the T.4 and T.5 both having 112 kw (150 hp) engines, the T.4 having a constant speed propeller and the T.5 having the constant speed propeller, optional electric flaps and trim, and some airframe strengthening in order to meet military training requirements. In 1978 under the Colombo Plan the New Zealand Government had AESL build six T.6-24 Airtourers and gifted them to the Singapore Air Force for training air cadets. However, in 1983 they were placed into storage as the spare parts inventory could no longer be maintained. In March 1987 these six aircraft were sold and imported to Australia where they became VH-BVV (c/n B571), VH-FVV (c/n B570), VH-JVV (c/n B559), VH-LVV (c/n B573), VH-OVV (c/n B558) and VH-XVV (c/n B574). AESL also built four T.6-24s for the RNZAF in 1976, these having a 119 kw (160 hp) engine with a constant speed propeller, electric flaps and electric trim, the Air Force testing an Airtourer 150 (ZK-CXS) in 1968. They were used as basic trainers at Wigram (serials NZ1760 to NZ1763). However, they were retired in 1993 and were replaced by the introduction into service of the CT-4 Airtrainer. They were sold. NZ 1760 (c/n A542 – ex ZK-JBX) became VH-AMX; NZ1761 (c/n A546) becoming ZK-LAD; NZ1762 (c/n A552) became ZK-JBZ but was damaged when it over-ran Reeve airfield on 8 January 1999; and NZ1763 became VH-MUM (c/n A553 – ex ZK-JAX) and after operating in Australia returned to New Zealand where it became ZK-WBW. AESL also built the Airtourer in some numbers for civil use, a number being supplied in partly assembled form to Glos-Air Ltd at Staverton Airport in Gloucestershire, UK. At that time in the 1970s two models were available, the Airtourer 115 with an 86 kw (115 hp) Lycoming O-235 engine, and the Super 150 with a 112 kw (150 hp) Lycoming O-320 engine, with either a fixed-pitch or constant-speed propeller. Flight magazine described the Super 150: "the machine makes a fine tourer – the cruise performance is above average in terms of speed and efficiency, thanks to the small wing, and the extra strength is a comfort should one happen to bump into rough weather en route" and "putting 150 hp, delivered through a constant-speed propeller, into a basic Airtrainer airframe produces a big step up in all-round performance and makes a very fine aerobatic performer of near contest standard." At least one Victa 100 VH-CTM (c/n 134) in Darwin, NT Australia has been converted to near T.6 specifications by using AESL drawings and installing a 119 kw (160 hp) fuel-injected engine and a constant speed propeller. Others have been converted to take 112 kw (150 hp) engines and became known as the Super 150. A couple has been modified with engines up to 134 kw (180 hp), and one fitted with a Lycoming AEIO-320 fuel-injected engine became known as the T.8.