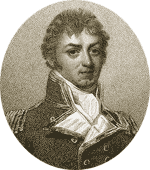 Kaptajn i den engelske flåde. Havde kommaandoen over skibet Shannon. Senere kontreadmiral.
Kontreadmiral Sir Philip Bowes Vere Broke blev født i Suffolk, England 9. september 1776. Efter uddannelse ved Portsmouth Skibsværft blev han kadet i 1792. Hans mange kampe under de lange krige med Frankrig talte bl.a. tjeneste som tredjeløjtnant på fregatten Southampton under slaget ved St. Voncent i februar 1797. Han blev forfremmet til kommandør i 1799 og kaptajn i 1801 og blev den kommanderende officer ombord på fregatten Shannon med 38 kanoner august 1806. I løbet af omkring syv år på dette skib, gjorde han Shannon til et af de bedste artilleriskibe i Royal Navy, og sandsynigvis i hele verden. Efter tjeneste fra Spitbergen til Madeira, blev Shannon sendt til Halifax, Nova Scotia, i 1811 for opgaver i den vestlige del af Atlanterhavet.
. During some seven years with her, he made Shannon into one of the finest gunnery ships in the Royal Navy, and probably in the World. Following service from Spitbergen to Madeira, in 1811 Shannon went to Halifax, Nova Scotia, for duty in the western Atlantic.
In July 1812, soon after the outbreak of the War of 1812, Broke led a British squadron in a long, but fruitless pursuit of the U.S. Frigate Constitution. Nearly a year later Shannon was blockading Boston, Massachusetts, as USS Chesapeake was preparing for sea. Though Broke's formal challenge was not received by the American ship, the opportunity for a duel between such evenly-matched frigates was mutually attractive, and on 1 June 1813 Chesapeake sailed out to meet Shannon. The resulting action reflected immense credit on Captain Broke's gunnery and discipline preparations, and on his leadership. In a brief but intense battle, Chesapeake was disabled by gunfire, boarded and captured. However, while leading the boarding party, Shannon's Captain received a very bad head injury, from which he only partially recovered.
Upon his return to England, Captain Broke was made a baronet, received many other honors and, in 1830, was promoted to Rear Admiral. However, since the severity of his injury precluded active Naval employment, he retired to his home in Suffolk. His health was further impared by a fall from a horse in August 1820, though he remained an active correspondent and was frequently consulted by Admiralty officials concerning issues of gunnery. While in London for medical treatment, Rear Admiral Philip Bowes Vere Broke died on 3 January 1841.